Services will be on Saturday, February 15th
at the New Bethel Baptist Church
located on the southeast corner of east 16th Street and Dr. Andrew J. Brown Ave.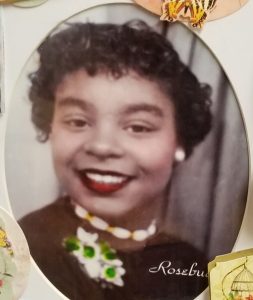 The viewing is scheduled for 10am and the homegoing service will begin at noon… The repass will take place at New Bethel Baptist Church following the escorted procession to crown hill cemetery.
Send flowers or cards on or before Saturday, February 15th to:
New Bethel Baptist Church
1535 Dr. Andrew J. Brown Ave.
Indianapols, Indiana 46202
---
OBITUARY
ROSEMARY KATHERINE BAILEY MORSE was born in Indianapolis, Indiana on September 27th in 1939.  She was the first child of three born to William H. and Mary R. Bailey who preceded her in death along with a sister Anna Bailey Zachery.
Rosemary was baptized at a young age while a member of the New Bethel Missionary Baptist Church.  She remained active in the church serving as a member of the Senior Choir, the Missionary Circles, the Church Nurses and the Deaconess until death.
Rosemary graduated from elementary school number twenty six and Arsenal Technical High School.  In school, she developed her love for music and learned to play the violin and piano.  After graduation, she attended nursing school to pursue a life-long profession.  After receiving a degree in nursing, she began her career passion working at Coleman's Hospital in Indianapolis as a licensed practical nurse in labor and delivery.
Throughout her nursing career, she worked hard to raise a family while continuing education in nursing and working for various hospitals, medical facilities and Indiana state prison systems.  She loved her patients and medical colleagues; they loved her too.
Rosemary was a member of the Black Nurses Association (BNA) since 1975.  Since then, she served as treasurer for 6 years and many other committees that involved fundraising for nursing school retention efforts and cancer awareness programs.  She also loved to support community events like the African American Passion Play, Upon This Rock.  Singing, performing and taking care of people were her joys in life.
On February 5th at 11: 29 am, Rosemary answered her calling at the age of 80 years, 4 months and nine days.
She leaves to cherish her loving memory: her husband Charles R. Morse, her sister Esther (James  Dishmon) three daughters Michelle Stanley, Cathy (Vernon LeSure) and Christi (Solomon Martin), two sons, James (Mattie Stanley) and Charles D. (Donna Morse) , sixteen grandchildren, twenty-two great grandchildren, two great-great grandchildren and a host of nieces and nephews.